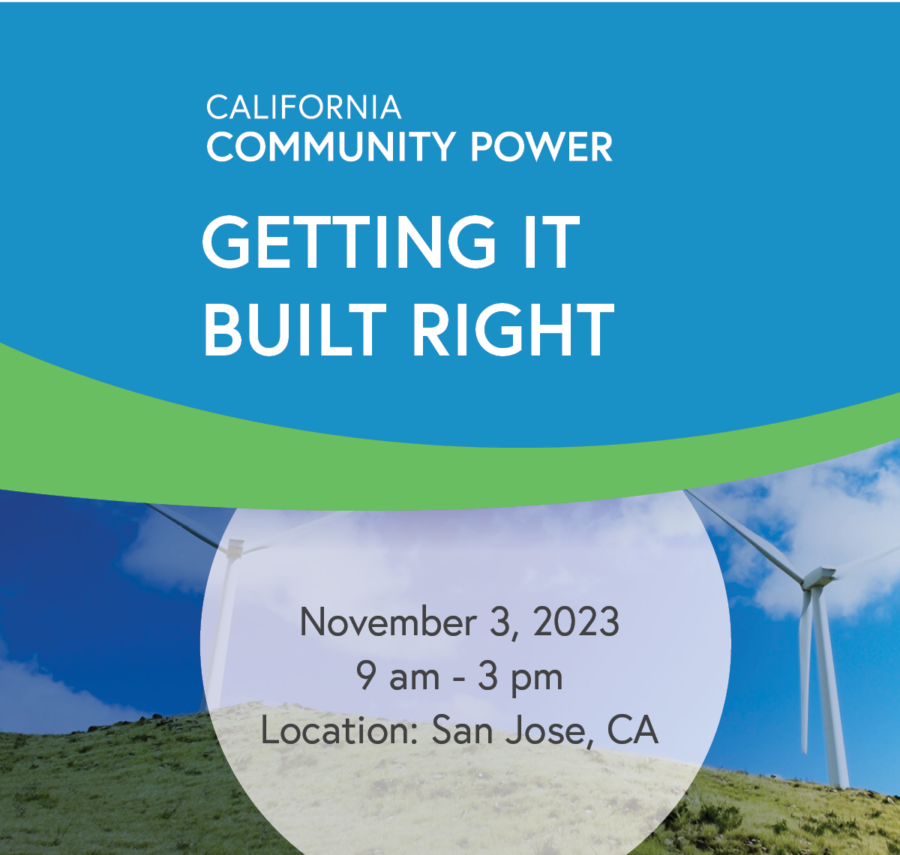 "Getting It Built Right" is a 1-day event that will promote discussion with Community Choice Aggregators (CCAs) regarding key considerations for project development, including perspectives on land use, local community impacts, project viability, opportunities for labor, environmental justice, and environmental effects. "Getting It Built Right" is being organized and hosted by California Community Power, an organization that procures power on behalf of nine CCAs.
Date: Friday, November 3, 2023
Time: 9 a.m. – 3 p.m.
Location:
San Jose Airport Administrative Offices
1701 Airport Boulevard Suite B-1130
San Jose, CA 95110
Event Registration: Please register via Eventbrite by October 27, 2023.
About the event: CC Power works with CCAs to procure and build clean energy resources.  Many new clean energy projects are needed for CCAs to meet their goals and to deliver clean power to customers.  Developing clean energy projects can be challenging and must consider many factors.  Stakeholder input can inform CC Power's efforts, as well as the efforts of individual CCAs.  This workshop will advance this conversation, enable stakeholder input, and inform CC Power on key perspectives and considerations in "Getting It Built Right."
Welcome and Opening Remarks
►  Geof Syphers, CEO, Sonoma Clean Power
►  Other CC Power Board Members
Session 1: Setting the Stage: CCAs, Procurement Needs, Electric System Transformation
Geof Syphers
CEO, Sonoma Clean Power
Beth Vaughan
CEO, California Community Choice Association (CalCCA)
Session 2: Challenges with clean energy project development
Danielle Mills
Director of Market Policy Development, California Independent System Operator (CAISO)
Cody Hill
Sr. Vice President, Battery Systems, REV Renewables
Additional panelists to be announced
Session 3: Strategies for Getting Things Built and Built Right – Part 1
Kate Kelly
Defenders of Wildlife
Erica Brand

California Energy Commission
Sarah Xu
Senior Policy Associate, Brightline Defense Project
Session 4: Strategies for Getting Things Built and Built Right – Part 2
Rick Bonilla
Principal, Authorized Personnel and Labor
Alex Lantsberg
Research and Advocacy Director, San Francisco Electrical Construction Industry
Eric Veium
Director of CCA Workforce and EJ Alliance
Geof Syphers, CEO, Sonoma Clean Power